Is it truly better to give than receive? The verdict's still out, but one thing is certain: it is great to give! At least, many positive psychology researchers are finding kindness and general pro-social behaviors to increase well-being. Kindness interventions show that happiness can be increased by doing random acts of kindness for others.
In one ten-week experiment, participants were invited to regularly practice random acts of kindness (Boehm, Lyubomirsky, & Sheldon, 2008). Engaging in kind acts (e.g., 12 holding the door open for a stranger or doing a roommate's dishes) was thought to impact happiness for a variety of reasons, including bolstered self-regard, positive social interactions, and charitable feelings towards others and the community at large. In this study, happiness was measured at baseline, mid-intervention, immediately post-intervention, and one month later. Additionally, two variables were manipulated: 1) the frequency with which participants practiced acts of kindness (either three or nine times each week) and 2) the variety with which participants practiced acts of kindness (either varying their kind acts or repeating the same acts weekly). Finally, a control group merely listed events from the past week.
Interestingly, the frequency with which kind acts were performed did not affect well-being. The variety of the kind acts, however, influenced the extent to which participants became happier. Those who were asked to perform a wide variety of kind acts revealed an upward trajectory for happiness, even through the 1-month follow-up. By contrast, the control group showed no changes in their happiness throughout the 14 weeks of the study, and those not given the opportunity to vary their kind acts actually became less happy midway through the intervention, before eventually rebounding to their baseline happiness level at the follow-up assessment.
In another kindness intervention, students were asked to perform five acts of kindness per week over the course of six weeks, and those five acts had to be done either within a single day (e.g., all on Sunday) or across the week (Lyubomirsky, Sheldon, et al., 2005). In this study, happiness levels increased for students performing acts of kindness, but only for those who performed all of their kind acts in a single day. It was theorized by the authors that when kind acts were spread throughout the week, the effect of each kind act was dispersed, such that participants did not differentiate between their normal behavior and the kindnesses prompted by this intervention. Taken together, these  two kindness interventions suggest that not only can happiness be boosted by behavioral intentional activities, but that both the timing and variety of performing such intentional activities significantly moderates their impact on well-being.
Not only is doing kind acts important for well-being, but counting the kindnesses one already offers (in the way one may count blessings) also increases happiness. Otake et al. (2006), found that happy people (determined by a median-split) are more motivated to do kind acts and recognize them, have more happy memories in number and quality, become happier through kindness and are more grateful. Additionally, they perform more acts of kindness during the intervention. One could think of this as positive reinforcement. Some theorized reasons unhappy people did not benefit in this way include depression influencing memories and motivation and/or the possibility of these people not actually performing kind acts in the first place. One recommendation for this group may be to engage in a Lyubomirskian intervention, as mentioned in the prior paragraphs!
Not only does doing varied acts of kindness increase happiness, but spending money on others promotes happiness as well. This may be surprising given how much we covet our assets and can even find happiness in being financially stable. While money can buy happiness (Diener & Biswas-Diener, 2002), when a person thinks too much about their wealth (think of a miser as the extreme [or Scrooge during this holiday season]), they are less likely to help acquaintances, to donate to charity or to choose to spend time with others (Vohs, Mead & Goode, 2006). Still, spending more of one's income on others predicts greater happiness both cross-sectionally (in a nationally representative study) and longitudinally (in a field study of windfall spending). In an experimental setting, those who were randomly assigned to spend money on others experienced greater happiness than those assigned to spend money on themselves (Dunn, Aknin & Norton, 2008).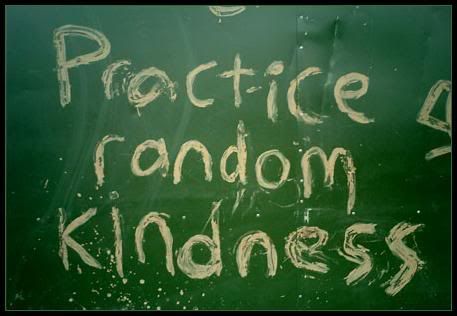 In a nutshell, do good things for others and do it with variety. I would recommend buying lots for others, but during this recession, I'm going to stick with the variety recommendation for now. And because it's hard to think up these things on one's own, here's an abbreviated list written by Joanathan Haidt:
==> · Be a listening ear to a friend. Ask your friend how her day was and actually listen and respond to her before describing your own day.
==> · Flu season is upon us. Help a friend or neighbor who is ill by delivering chicken soup, doing the laundry, or walking the dog.
==> · Give someone else the gift of time-Do something for someone else that requires time and effort on your part.
==> · The next time someone admires something of yours and you can afford to do without it, give it away.
==> · Volunteer in your community.
==> · One day each week, "commit" five random acts of kindness. And, when possible, make them anonymous.
Boehm, J. K., & Lyubomirsky, S. (2008). Does happiness lead to career success? Journal of Career Assessment, 16, 101-116.
Dunn, E.W., Aknin, L.B., & Norton, M.I. Spending Money on Others Promotes Happiness. Science, 319, 1687-1688.
Lyubomirsky, S., King, L., & Diener, E. (2005). The benefits of frequent positive affect: Does happiness lead to success? Psychological Bulletin, 131, 803-855.
Otake, K., Shimai, S., & Tanaka-Matsumi, J. (2006). Happy people become happier through kindness: A counting kindness intervention. Journal of Happiness Studies, 7, 361–375.