Is it possible to turn fear into altruism? This is positive psychology in a most creative sense. Take something negative, say psychopathy and look at the flip side: empathy. After all, "Psychopaths also lack empathy towards others in general, resulting in tactlessness, insensitivity, and contemptuousness" (Millon & Davis, 1998). Additionally, a focus on empathy and emotional resilience rather than psychopathy will enable people is the psychologically "normal" range to become even better, more understanding and compassionate educators, mentors, parents, siblings, and friends. Finally, this article focuses on how we must be able to understand the bad, in this case, fear, in order to know how to be good.
While there is a huge range of human emotion, recent studies have suggested that a fearful facial expression is a more salient elicitor of prosocial behavior than are other facial expressions, such as surprise or anger.
Marsh, Kozak, and Ambady (2007) conducted three studies to investigate the relationship between fear recognition and prosocial behavior.
In the first study, participants believed that the researchers were investigating typical reactions to radio broadcasts. The participants listened to an audiotape—a fictional creation of the research team—of a young woman named Katie describing her parents' death and her struggles to care for her siblings. The researchers instructed one group of participants to empathize with the woman, while telling a control group to focus on technical aspects of the recording. Next, while having participants fill out questionnaires used to disguise the real intent of the study, the researchers handed out a letter from Katie describing her need for help, accompanied by pledge forms and envelopes.
Afterward, they gave the participants a test measuring their ability to identify emotions in photos of adult faces.
Not surprisingly, participants told to empathize with Katie donated more than those told to listen to the tape for technical accuracy. In addition, facial fear recognition skills played a powerful role in predicting their generosity. The accuracy with which participants recognized the fear expression significantly and positively predicted their donations of time and money.
In the second study, the researchers analyzed how participants' fear recognition skills influenced their rating of people's photos as attractive or unattractive if they thought the photographed subjects would be told about the ratings. This design created an opportunity for the participants to exhibit prosocial behavior by being kind to the people in the photos, eliminating a costly barrier of undergraduate participants not necessarily having much time or money. Another group of participants, who did not believe that the photographed people would hear their opinions, served as controls.
This study found that participants skilled at identifying facial fear (as well as sadness) responded the most kindly in the rating task. This was only true for participants for whom the task was framed as a prosocial one—who believed their judgments would be shown to the people being rated. In the control group, which did not think the researchers would share their opinions with the photo subjects, fear or sadness recognition skills played no role in the participants' ratings. This could mean that there is nothing prosocial about rating someone as more attractive than they are if the people being rated are not told.
The third study duplicated Study 2, adding additional analyses to confirm that higher ratings of attractiveness stemmed from participants' efforts to be kind. In this study, fear recognition again proved to be a strong predictor of prosocial behavior.
The results of the three studies maintain the hypothesis that the ability to recognize the fear facial expression predicts individual differences in prosocial behavior. This is consistent with studies involving psychopaths, because those studies suggest that individuals less prone to experiencing states associated with prosocial behavior (e.g., empathy, concern, and guilt) are less able to recognize distress cues such as the fear facial expression. Cleckley (1976) even defines psychopathy as a "lack of guilt or empathy." More studies must be conducted to experimentally manipulate empathy, as was done in Marsh et al.'s Study 1, not merely manipulating whether or not the participant will get recognition as in their Studies two and three. Still, these researchers have lain fascinating ground for future studies of other-oriented positive emotions.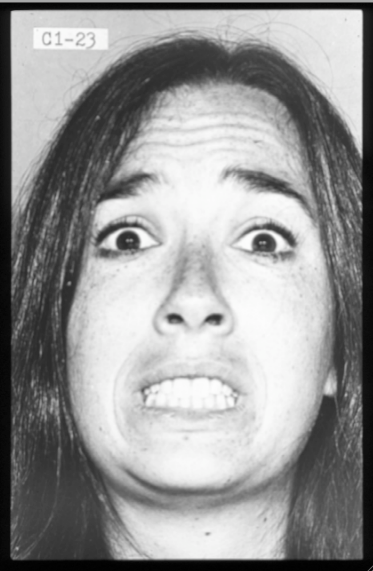 Marsh, Abigail A., Kozak, Megan N., Ambady, Nalini. (2007). Accurate identification of fear facial expressions predicts prosocial behavior. Emotion, 7, 239-51.
Millon, Theodore; Davis, Roger D. (1998). "Chapter 11: The Five-Factor Model of Personality, Psychopathy: Antisocial, Criminal, and Violent Behavior. The Guilford Press: New York, NY. pp. 173-177.